Before my Chinese class on Friday I was talking with my teacher about using computers in Chinese. I was telling him about the cool input methods I found for the Mac – openvanilla.org and the default Mac support for pīnyīn.
He mentioned that he would like to have that kind of support for his computer because at the moment he was doing all his lessons using charmap – which would drive most people nuts; the man has the patience of a saint. As you might have gathered by the charmap reference, he uses Windows.
Instead of just saying "you should buy a Mac", I decided to try to find a couple applications that would allow the same functionality on Windows.
With the first go round, I found a somewhat decent way to type pīnyīn. I stumbled upon it in a forum on ChinesePod.com. The application adds a keyboard layout that re-maps some keys. You can download the application from my server. I did a virus scan on it, but you might want scan it again yourself (if you have a virus scanner better than ClamAV).
This is how one installs it (text taken mostly from that forum):
Unzip the zip file somewhere convenient.
Within the pinyin folder, run the pinyin.msi installer, and follow the prompts.
Once installed, right-click on your language bar and select 'settings' from the menu
Click the 'add' button.
If there is a check box, Tick the Keyboard Layout/IME box and / or select Easy Pinyin (UK Keyboard) from the second dropdown (see picture).

Click Ok to add the layout, and then Ok again to close the settings window.
You can now select the keyboard layout for the Easy Pinyin (UK Keyboard) language. (see picture)

Once you have it installed you can switch between the two layouts by clicking on the little keyboard icon. When you are in the Easy Pinyin (UK Keyboard), to type the tone marks you use the following keys (according to my old IBM thinkpad laptop that is):
So, for example to make an ē, you type ' then e. Here is a shot of it in use: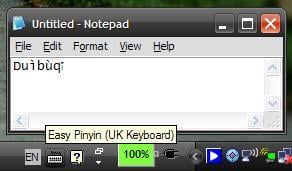 I haven't found a nice way to type pīnyīn and have it make simplified characters – like openvanilla.org on the Mac. I should point out that openvanilla does have a Windows version (look under downloads); however, it only seems to support Cantonese and traditional characters. I say seems to because most of the UI is in Chinese, and I can't read Chinese that well yet so it might be in there somewhere.
---
Thanks to James in the comments below, he gave me some search terms to look around a bit more, and I found these two pages – installing and using – which show how to setup Windows to act like openvanilla.org (to be accurate, openvanilla.org probably copied Windows, but you get my meaning).
Once you go though the setup you can type pīnyīn (minus the tone marks) and it will make simplified or traditional characters (depending on your setting). In the end it looks like this: